Your home or garden may be a smaller space, but don't let this affect how you enjoy it. Maximising the potential of a small living space isn't impossible, just check out these three creative solutions we've gathered to maximise your garden space.
Benches
The quintessential British bench will forever be a timeless classic in a garden. There is such a huge variety of benches available that can be suited to whatever theme your garden may have. Not only this, but a bench offers more than one person a place to perch in a smaller garden. You could even potentially step your bench up a gear and make it a storage bench! There are so many storage benches on the market, or if you've got the handy-man skills you could even try making one yourself. This is the perfect solution to your small space, as you can store any garden necessities in here, or even some colourful outdoor cushions that can be used on the bench.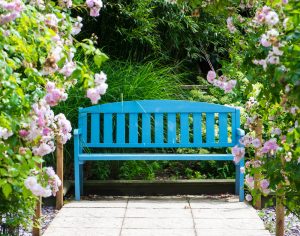 Fire Pit
In recent years, we've seen a huge rise in the desire to own a fire pit. Fire pits bring together a group of people who can all enjoy the outdoors together late into the evenings. However, if you haven't got the space for this, you should look at purchasing a fire pit that has more than one function. This particular fire pit can be used as the perfect table for alfresco dining on a warm day.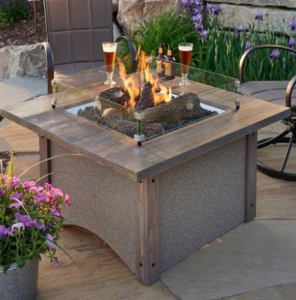 (source)
Bistro Sets
A bistro set is made of two chairs and a table and are perfectly designed for small spaces. They are also commonly made from metal and are slimline in order not to take up too much space. We know that most people want to enjoy their garden as often as they can, but this isn't always do-able when a smaller space restricts you from continually keeping furniture outside. That's why we definitely recommend you invest in a bistro set that has folding garden chairs as you can bring them out and put them away whenever you need them!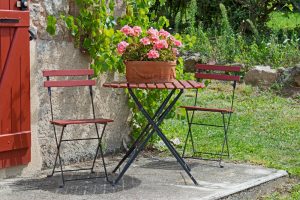 When the warmer months have ended, and you are no longer using your outdoor furniture as regularly, you can pop them into a storage unit to keep them protected from the harsher weather. Find out more about our storage units and our personalised storage calculator here.